How a Lockdown Idea Became a YouTube Channel with 127k Subscribers
👍 Subscribers:
127,000
📺 Views:
25,584,668
What's your background and why did you start YouTube? What motivated you to get started?
I'm based in Melbourne, Australia and my YouTube channel features short documentaries that tell interesting stories about the world around us. I've created a series called Unknown Melbourne, which tells unusual stories about the city – from why do trucks keep smashing into this particular bridge; to a story that explains why Australia has the best pedestrian crossing buttons in the world (with a side story about Billie Eilish). It's a fun mix of education, entertainment and humour.
For many years I've been involved in projects – having worked in international development and academia – that I thought were perfect to tell via video storytelling. My work has involved working to support community projects around the world – so spending time in these amazing communities and seeing a range of inspiring projects from people working on waste recycling the slums of India to entrepreneurs in Vietnam preserving century-old paper making crafts, got me interested in how to tell stories further.
One project that really brought this home was when myself and a team designed and built a solar powered tuk tuk – converting a Thai built vehicle, fitting in a second hand Telsa battery – and then driving it across Australia at just 50 km/hr. It was a great adventure, outreach and educational project and we had a videographer join for the trip, and made a great short film which premiered at a sustainability film festival, so this gave me the push to think about learning how to do this myself.
I enjoy watching YouTube and there are a lot of great creators who's work I love who were an inspiration. That said, it was the pandemic and associated lockdowns of 2020 that gave me the final push. The business I run leads study tours overseas – perhaps one of the worst business to be in during this pandemic – so I found myself with a lot of time, but still a desire to educate. I decided to pull the trigger and learn about cameras, editing and storytelling.
Tell us about your journey on the platform so far.
I kicked off my channel in May 2020, while still in lockdown, so my first videos were educational about a range of unusual topics that I find interesting – for example there's a biscuit in Australia (Anzac Biscuit), that it's illegal to call a cookie. It's a quirky story about history, commerce, and the law – and that was my first video.
My channel content has been somewhat guided by the Australian lockdown status – when we were completely locked down, every video was filmed at home. As we opened up a little – I launched my Unknown Melbourne series, and when we could do some travel I made some films interstate – including exploring Magnetic Hill, a part of Australia where gravity seems to reverse and you can roll up a hill (turns out there's a more scientific explanation).
I didn't have much in the way of traction for most of my early uploads – I had a look at my analytics and some of videos had on average less than one view per day for the first 100 or so days. Interestingly, some of them now have 100k+ views. It can certainly be hard putting in hours of work for something that doesn't get traction.
My first video that got some traction was about the Montague Street Bridge – a bridge in Melbourne that trucks regularly drive into. I went there to tell the story shortly after lockdown finished and, by chance, caught a truck hit and got stuck under the bridge. It was quite the shock and made for a good video. This got a great response (and my first few hundred subscribers) via the Melbourne subreddit. This was a good confidence builder, also.
Since then I've made around 30 or so videos, with my favourite style being visiting and telling an unusual story – like how the state border between South Australia and Victoria is in the wrong place due to a measuring error a century ago.
What's been key to your growth?
This past month has seen the channel receive a huge response with 4 million+ views on the channel. Before then it was a receiving less than a thousand views a day across the channel on average.
My channel has topics and themes that aren't common on YouTube – stories about Australia and, in particular, Melbourne. I think that the broad topics made the channel hard to find in its early days: not many people are search for 'illegally named cookies' or 'how the world's ugliest colour is saving lives' or the various other unusual topics I covered. That said, when people do find the channel, if they enjoy they style – then they're likely to watch the lot, and I've gotten a lot of comments about people binge watching it.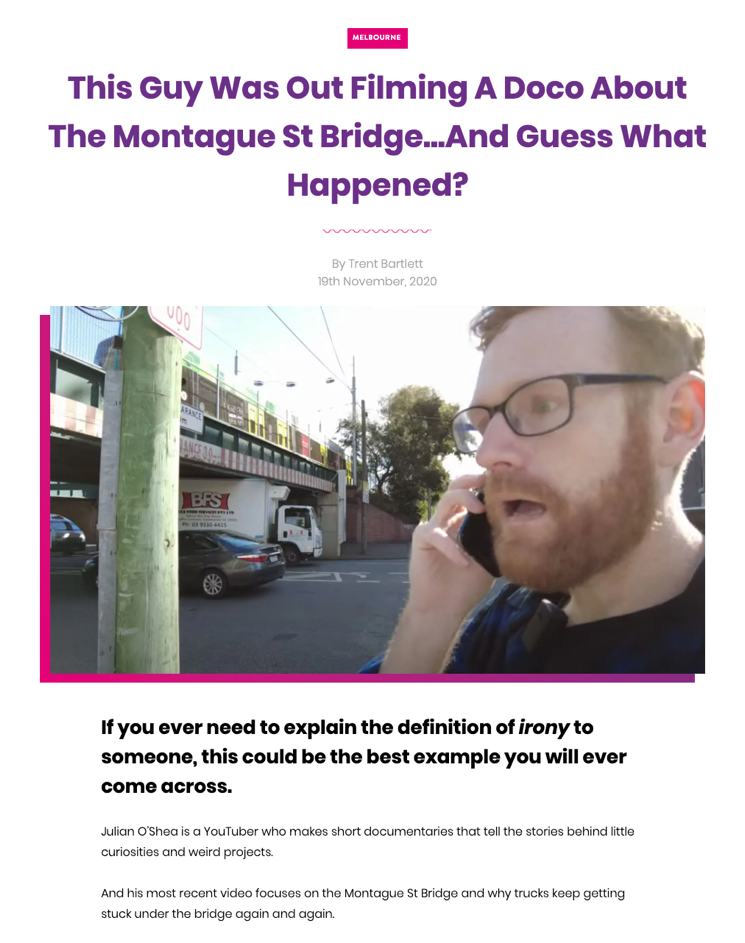 Telling interesting true stories that many people don't know has led to quite a big of media coverage – and it was strange the first time to see yourself reported in the media as a 'YouTuber'. It was a media story that really kicked off the growth, going on ABC Radio Melbourne to talk about 'why Australia has the best pedestrian crossing buttons in the world' – a topic I made a video about. This, I think, got some people to check it out online, and then YouTube to promote this video to a much larger audience, many of which checked out the channel more, and a lot larger audience.
This saw my channel grow from around 2.5k subscribers to now over 50k over around a month. I went from having no videos have more than 15k views to 10 having 100k+, with one now on 1.9 million – months after it was uploaded.
Having a back catalogue was incredibly important, so when people find your channel they know there's more there and more to come. This, as well as getting better with the process, is one of the most important parts of being consistent.
You're doing incredibly well on YouTube, has your journey on the platform resulted in any other interesting opportunities?
There have been some great opportunities come up so far. There aren't many people making videos about unusual urban topics for a mainstream audience – so I was approached by the peak engineering organisation, Engineers Australia, to create a video walking tour for them as part of Melbourne Knowledge Week – so people could do their own self-guided tour and learn about interesting and iconic sites.
I've also started making videos on other platforms, notably TikTok and had a huge response. It was a surprise but I've gotten millions of views there sharing bite sized stories about design. Building on this, myself and another creator (Mary McGillivray), were successful to participate in the Alchemy program by State Library Victoria – receiving funding and support to make videos about the fascinating items in their collection. It's been a lot of fun.
What are your goals for the future? Have they changed in light of your recent success?
I'm excited about the potential to travel to more places and tell more stories, while reaching a big audience. I've had people reach out and offer to show me fascinating places around the city which should be a lot of fun. I'd love to do that nationally and globally when we're allowed to travel.
My day job is working in universities, so I'm interested to creating more educational tools to help students tell stories and communicate more effectively through video.
Excited to continue to see where this all goes.
What have you learnt from your YouTube journey so far? - Would you do anything differently if you were to start again?
YouTube has a lot to learn, which can be rewarding if you like the challenge.
Tips I would give my earlier self:
Lots of gear stuff isn't that useful, but a big light make things look a lot better.
Reach out to other people making stuff – they're pretty much all lovely and most are happy to share.
Do check out the earliest videos of people you respect, so you can see their journey and how far they come – but don't be put off by their high view counts (they were almost certainly much lower when they pressed publish, but as they got popular people checked out their back catalogue).
If a video doesn't get views when it comes out, it doesn't mean it never will – I have a stack of videos that now have 100k+ views that had only a few dozen views on release.
Make the videos you yourself genuinely want to watch.
One piece of advice for YouTubers just starting out?
My one piece of advice would be to create a channel that can be successful, even if the views or dollars don't come. For me, I've travelled to interesting places that I wouldn't have made the effort to, including with family and friends. I've done silly projects with friends, like building a human power craft and jumping into the Yarra, as part of the Birdman Rally (and raised some cash for a great cause); and went fishing in the lake for bikeshare bikes that were dumped there years ago. These have made for a lot of great stories, and were a lot fun – even if no one watched the videos.
If this becomes a a chance to share things you're interested in; research topics you love; get more confident in sharing and presenting; or give you a reason to connect with people you enjoy – then there's lots of ways to get value out of this journey without just numbers or dollars. If you enjoy the process, you're more likely to stick through it and hopefully do find success on the platform.
Where can we go to learn more about you?
Check out my YouTube channel or TikTok or on Twitter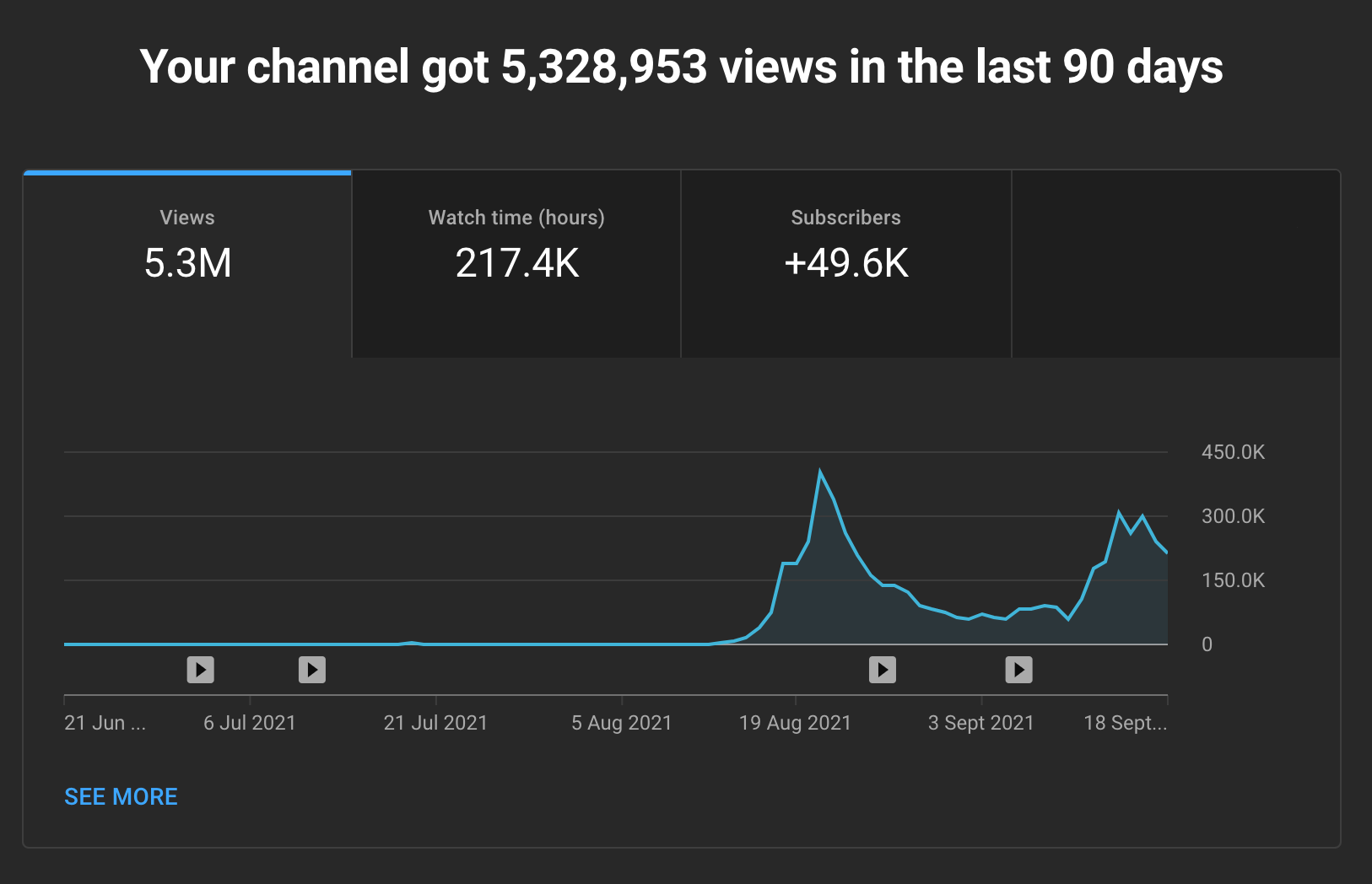 How did PTYA help you?
Some of the best resources I've found in learning the various skills you need to create a YouTube channel have come from Ali Abdaal. For example, his no nonsense approach to gear and how to get started on all budgets was very clear. His Skillshare class on Final Cut Pro editing literally took me from zero experience to being able to make videos that work.
I had a really positive experience with the Part-Time YouTuber Academy. It covered a lot of topics that I didn't know much about, from working with teams and outsourcing to creating systems to make the process more efficient and reach a larger audience. Excellent content presented well. There's no doubt it's a big commitment, particularly if live sessions are at 2am Australia time, but for those who are serious about taking their channels to the next level, I'd recommend it.