How YouTube Was Key To My Business Success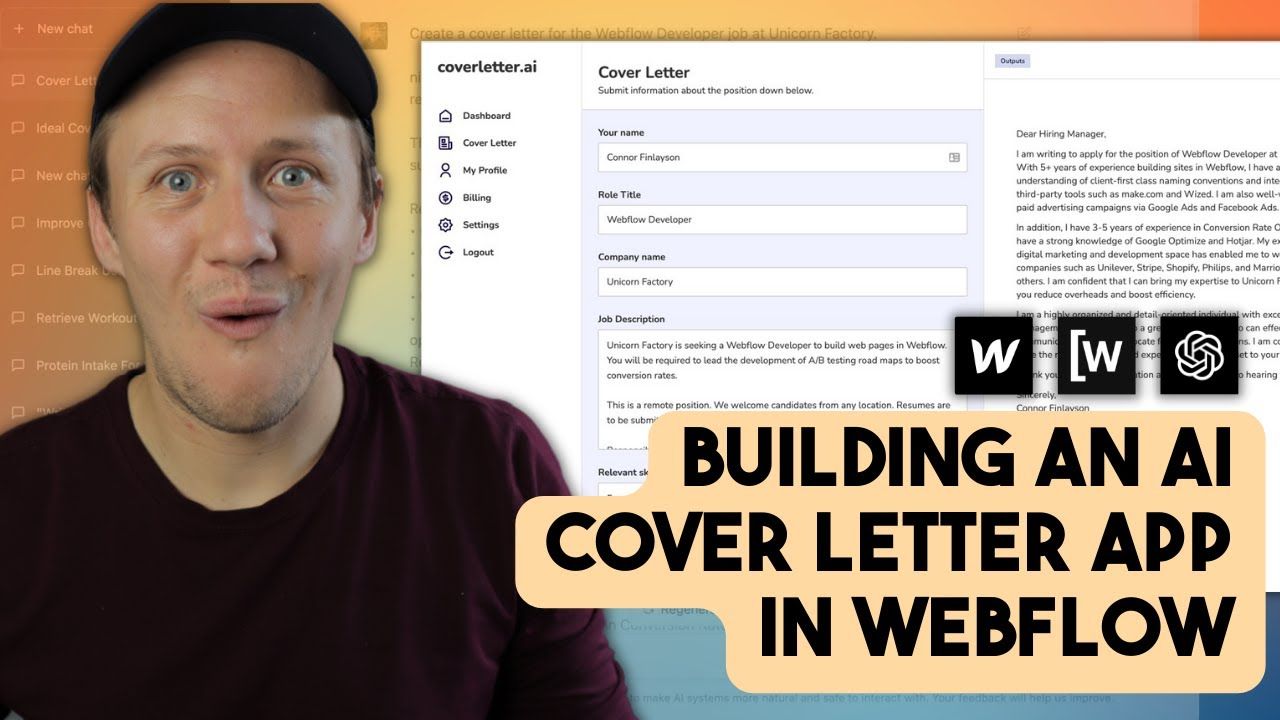 👍 Subscribers:
11,900
📺 Views:
609 775
Tell us a bit about yourself, what's your background?
Hey friends. My name is Connor, I am the founder of Unicorn Factory, a freelancer marketplace in New Zealand and in Canada. I also run a consulting business where I teach aspiring entrepreneurs who can't code to build their own online businesses with No Code tools. I am originally from New Zealand but recently moved to Ottawa in Canada, as my wife got a fantastic job opportunity and I was ready to explore different parts of the world. I have been running my own businesses since graduating from university in 2017 and was a member of the first cohort in the Part-Time YouTuber Academy that motivated me to start my YouTube channel.
Why did you set up a YouTube channel? What motivated you to get started?
In November 2019, I spoke at a conference in San Francisco, where I shared how I built the Unicorn Factory without hiring developers. I got a lot of great feedback from people who attended the talk or watched it online, so I decided to go a bit further and share some tutorials on how to build your own online marketplace without developers.
It was around that time that Ali announced the first cohort of the PTYA, so I decided to give it a shot, and it was one of the best decisions I made last year.
Tell us about your journey on the platform so far.
Prior to joining the PTYA, I uploaded two videos to my channel - one was a Loom recording of the presentation I did in San Francisco, and the other one was a tutorial about building an analytics dashboard with No Code tools. I had 30 subscribers at the time.
Since joining the PTYA, I have uploaded 88 videos since November 13, 2020, and am now sitting at 3277 subscribers (as of September 13, 2021).
I also created a little online course with my newly acquired filming and editing skills, and that has been doing really well.
My big goal for the PTYA and for my first year on YouTube was to create 2 videos per week, no matter what, and so far I have been able to stick to it, which I am really proud of.
Before publishing my first video after joining the PTYA, I decided NOT to set myself any goals around views or subscribers, because I didn't know what was realistic and I didn't want any unrealistic expectations getting in the way of me reaching my goal of 2 videos per week in my first year.
It took me 41 videos to reach the 1000 subscriber mark. My wife got me some 1000 subscriber cupcakes which made everything up until that point worth it.
What's been key to your growth?
I feel what has worked best for me and has contributed to me getting to this point the most is just being consistent.
I definitely think that having a mindset where you don't worry about the views, likes and subscribers will help you stick to making videos week after week. Consistency was always one of the qualities I appreciate in Ali the most, so I decided to steal that for my channel.
What are the key insights you've discovered since starting?
If I could go back in time and give myself three cheat codes for YouTube it would be the following:
You have to promote your videos. When you are starting it out, you have to make it easier for people to find your content and the best way to do it is to share your videos in Facebook groups, Reddit or Forums. The YouTube algorithm has now started kicking in for a few of my videos, but I would NEVER be at 3k subs without me promoting my videos in different places.
Don't overthink things. One of the realizations I had after the 8th video is that people don't really care as much as you think about your videos. So, it doesn't make a lot of sense to overthink every single element of your video. It's more important to just get something with a decent enough standard out there.
You have to be a little clickbaity with Titles and Thumbnails. If you want people to click on your videos, you need to entice them and making your thumbnail and title clickbaity just helps, and more importantly, there is nothing wrong with it if you deliver on what you said the video would be about.
What are the biggest challenges you've faced?
I have honestly not faced any big challenges since starting. I have definitely had moments of not having ideas, I have had some issues with Final Cut Pro and I also once recorded an entire video without recording the audio, but all of those things are part of the process, so I never considered them a big deal.
At the moment, I have plans to level up my videos with better B Roll, and I haven't ever really done it, so that is probably top of mind for me right now.
Have you experienced any second-order effects from starting your channel?
Tons. As I mentioned before, I set up a little online course for people wanting to build their online marketplace. I charge $2k for the course, and I have made quite a few sales since starting. I am currently working on a better version of my course, and am planning to get that out there in early 2022.
My consulting business as a whole has grown a lot in the last 12 months. A lot of the clients I have been getting for coaching sessions, project builds or the course has been a direct result of putting YouTube videos out there.
Besides that, I have also been invited to speak at conferences, I have done a few sponsored review videos for some companies in the No Code space and most importantly I have learned some really useful skills that help me beyond just making YouTube videos. I have become a lot more organized and consistent in a lot of areas of my life, and I think creating content has helped with that.
What are your goals for the future? How have your goals changed?
I only have another 11 weeks to go until I reach my goal of 2 videos per week for one year. Once that is done, I am going to shift my focus from quantity to quality.
There are a lot of different things that I want to do to improve my videos, and in order to do that, I need to give myself a bit more time and breathing room which is why I am likely going to go down to one video per week for my second year.
My other goals for 2022 are to improve my online course and expand Unicorn Factory into one (maybe two) new countries.
Would you do anything differently if you were to start again?
Nothing really. I am really happy with what I have accomplished in my first year on YouTube.
If I am being nitpicky, I would probably buy a better microphone sooner. I recently upgraded to a proper XLR microphone with a Zoom H6, and the difference in audio quality is huge, but with that being said, I would have probably never made that investment unless I made it this far.
One piece of advice for YouTubers just starting out?
Do it for yourself. Reflecting on this year, I would say that what kept me going the most is that I did this for myself - it was really personal challenge. In the past, I put a lot of pressure on myself to achieve certain benchmarks set by others, but this time I just decided to do the best I can do with each video and just make two videos per week, no matter what.
Even though you will definitely have moments of doubt or stress about YouTube analytics, it's easy to remind yourself that it is not about that and that making 2 videos per week is doable at all times.
Where can we go to learn more about you?
If you want to check out my channel you can visit it here, if you want to say hi on Twitter, you can find me at @FinlaysonConnor. If you want to learn more about what I do for work, check out my website OR just say hi on Circle.
How did PTYA help you?
I am really grateful that I pulled the trigger on the PTYA when I did. It was the commitment I needed to make to take this seriously and the stuff you learn throughout the course will definitely allow you to get your videos to an acceptable standard very fast. I also met a bunch of other people at a similar point in their YouTube journey, and that helps a lot too.